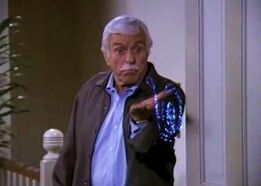 Welcome Back. Duke
is the sixteenth episode of
the fourth season
and the ninety first overall episode of
Sabrina the Teenage Witch
.
Summary
After Salem learns one of his old cronies, Duke, has completed his sentence as a cat, he asks Hilda and Zelda if he could stay with them long enough to get back on his feet. After they reluctantly agree, everybody learns that Duke's magic is really rusty and he soon blows up Hilda's clock shop when he's left in charge. To make matters worse, while Sabrina is practicing for an upcoming dance audition, he gives her two right feet and puts a spell on Harvey that makes him act like a child. Hilda and Zelda eventually are able to reverse Duke's spells.
Meanwhile, while Sabrina practices for her dance audition, Hilda and Zelda unsuccessfully try to coach her girls basketball team.
Quotes
Magic Notes
Uses of Magic
Spells:
To conjure the Foot rest by the stairs:
(Casted by Duke)
Postum, Ottoman, Sherah
To fix the watch:
(Casted by Duke)
Tempo, Rustiva, Correctus
To explode Hilda's Clock shop:
(Casted by Duke)
Electa, Corsu, Explode
To turn feet into all right foot:
(Casted by Duke)
Feetum, Rightus, Fordim
To conjure a Tapping shoe:
(Casted by Hilda Spellman)
Feetum, Balarinus, Tapetu
To vanish the Tapping shoe:
(Casted by Zelda Spellman)
Revertum
Spell makes Harvey acts lika a kid:
(Casted by Duke)
Youngun, Tappus, Miraculum
To fix Harvey back:
(Casted by Hilda Spellman)
Miraculous, Tappum, Youngun
Trivia
This is the first time that Sabrina mentions her desire to go to John Adams College which she will do in Season Five.

In the opening scene where Sabrina's team runs in the house, Salem yelled out "Oh no! Not Sabrina's tiny bopper basketball team!" Realistically, they should have heard him.

Dick Van Dyke guest stars in this episode as Duke. As a witch, he conjures up an ottoman and Sabrina trips on it. This is an homage to the beginning of every episode of The Dick Van Dyke Show, in which Dick used to trip on an ottoman.
Community content is available under
CC-BY-SA
unless otherwise noted.