Total Sabrina Live! is the premiere episode of Season 7 and the 142nd overall episode of Sabrina the Teenage Witch.
Summary
Zelda sacrifices her adult years to turn Sabrina back from stone, being transformed into a child. Sabrina lets Zelda know that she doesn't have to watch out for her anymore and convinces her to move back to the Other Realm with Hilda and Will. We pick up a few months later with Sabrina having moved into their house with Morgan and Roxie.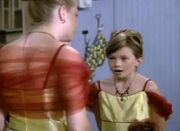 Sabrina joins Morgan and Roxie on a trip to visit MTV to meet Total Request Live host Carson Daly and interview the rock band Course of Nature after Morgan wins a writing contest with the ultra-hip music magazine, Scorch. But after Morgan admits she submitted Sabrina's writing, Sabrina turns it around and captures a job the magazine.
Magic Notes
Uses of Magic
Spells
To Make the Editor See Her Resume (Cast by Sabrina Spellman)
Get my resume out of the file
and put it right on top of the pile.
Notes/Trivia
This episode concludes the cliffhanger of the Season Six finale, I Fall to Pieces.
This is the final appearance of Zelda Spellman in human form. However Beth Broderick's final portrayal of Zelda was in the previous episode.
Young Zelda is played by Alexandra Hart-Gilliams; Melissa Joan Hart's half sister who previously portrayed Ally Wiccan in the Season 3 episode "Sabrina, the Matchmaker."
For the first time in the series, Caroline Rhea and Beth Broderick do not have second and third place in the opening sequence. Instead, the credits roll: "Starring Melissa Joan Hart, Elisa Donovan, Nick Backay as Salem and Soleil Moon Frye as Roxie."
Soleil Moon Frye and Elisa Donovan are credited in the opening sequence for the first time; having been credited as "Also starring..." in the previous two seasons, following the opening.
It is never revealed what happened to Miles.
Sabrina tells Zelda that she's graduating soon. Either Seasons 5-6 take place over the course of four years, or the girls stopped after earning two-year (Associate) degrees.
The Spellman house was given a makeover in the gap after Hilda and Zelda leave with the girls having redone the living room, the dining room, the second floor hallway, and Sabrina's room.
Harvey unexplainably decides not to go to California, although the likely cause is Zelda restoring Sabrina and her ability to have true love.
Melissa Joan Hart later married Mark Wilkerson, the lead singer of Course of Nature.
Sabrina's looking for a job, as her internship is now over with The Boston Citizen. They offered her a position as an Assistant Associate to the Associate Assistant, though she turned it down, believing such work to be beneath her. Later, it is revealed that this job was taken by one of her old college professors, so she couldn't take it, when she returned to look for work. All of this is learned via dialogue, having happened off-screen. Also, The Boston Citizen is incorrectly referenced, in the episode, as The Boston Globe. 
Bumper Robinson (James) previously appeared in the Season One episode "Trial by Fury" as an angry author and John Ducey (Leonard) previously appeared in the Season Two episode "The Band Episode" as Dwayne Kraft, Mr. Kraft's nephew.
While interviewing Course of Nature after finishing their set, Morgan asks them if they know "Oops!... I Did It Again," by Britney Spears. Spears previously guest starred in the season 4 premiere "No Place Like Home."
Community content is available under
CC-BY-SA
unless otherwise noted.