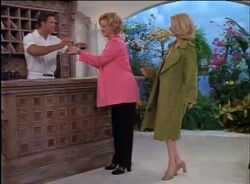 "Welcome to Celestial Bodies, where you can feel supernatural naturally."
Celestial Bodies
is an Other Realm Spa that
Hilda
and
Zelda
visit for a vacation in "
A Doll's Story
" They give complimentary seaweed juices at the counter.  Each room comes with a mini-bar with a bartender eager to serve you drinks, which is a waste, Zelda states, because their is a convenience mart right across the galaxy. Each room also has a sign up sheet for each person in the room to sign up for treatments. When a treatment is circled, a voice from the ceiling confirms or when crossed out, cancels.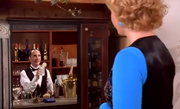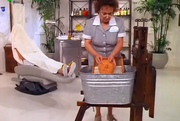 Treatments
Solar Bronzing Treatment
Essential Honey Dip - "You are dipped into a human-sixed beehive, you emerge soft and supple with just a little bit of a buzz."
Madame Epidermis - "The most famous facialist in the Realm . You have to book her appointments 50 years in advance. Her technique is so fabulous that your face feels as if it's actually been grafted with baby butt skin."