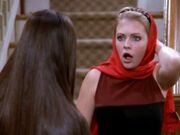 is the 11th episode of the
seventh season
and the 152nd overall episode of
Sabrina the Teenage Witch
.
Summary
When Sabrina finds out that Annie assigned her the task of interviewing British pop star Daniel Bedingfield, she happily tells Morgan about the spread Scorch plans to do on him. After she learns that Annie needs a designer to outfit the singer for the photo shoot, Sabrina promptly tells her about the great fashion designs Morgan came up with and is able to land her friend the job. However, when everybody at the magazine sees how bad Morgan's work is, they designate Sabrina to be the one to fire her. However, when she attempts to do so, Morgan gets mad at Sabrina for lying to her when she first told her that her clothes were great, causing Sabrina to become two-faced, literally!
Meanwhile, Salem feels like he's getting old so he starts dying his hair, gets collegiate injections, and begins dating a younger cat and Roxie has to change the format of her radio show and Sabrina lies to her by telling her that her new song is good.
Magic Notes
Uses of Magic
Notes/Trivia
Harvey doesn't appear in this episode.
A witch was seen to have to same "two-faced" condition in "Every Witch Way but Loose." However, unlike Sabrina, her two faces were not identical.
This episode takes place before the previous one "Ping, Ping A Song," which is why Annie and James don't know who Morgan is despite meeting her at the Gal Palz's photo shoot in that episode.
The title is a reference to C.S Lewis' story of The Lion The Witch & The Wardrobe which is about three children going to Narnia through a wardrobe.
This was actually the 150th episode of Sabrina filmed. Following the production of this episode, the "Sabrina" cast and crew cut a cake to celebrate Sabrina's milestone of 150 episodes.