The Good, the Bad and the Luau
is the twenty fifth episode and the finale of
the third season
and the seventy fifth overall episode of
Sabrina the Teenage Witch
.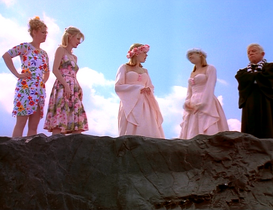 Summary
Sabrina is taken to Hawaii for the Spellman family reunion but instead of beach and fun, she has to stay in her bedroom until she figures out the family secret. When she does find out that "every member of the Spellman family is born with a twin," Sabrina meets Katrina, her identical twin from South Dakota. After the two spend quality time together in Hawaii, they discover that they must be put on trial to determine which one is the evil twin. Because of her selfish spells, Sabrina is determined to be the evil twin. As a result of this, the Witches Council tell Sabrina that she must be thrown into a volcano and Katrina un-hesitatingly pushes her in, revealing that was the final test, proving that Katrina is the evil twin.
Meanwhile, Harvey, under the affects of a "Dr. Dolittle spell," stays with Salem while the Spellman women are away and Salem is taking care of Lola, a pregnant cat. When both Harvey's mom and Lola go into labor, Sabrina casts a spell to relax Lola that accidentally transfers her kittens into Mrs. Kinkle. When that problem is fixed, Lola gives birth to Groucho, Harpo, Chico, Zeppo, and Pepe while Harvey's mom gives birth to a healthy baby girl named Una. Harvey later takes Lola and her kittens since meowing stops Una from crying. Salem is allowed to visit but is rather sad to see them go.
Cast
Starring
Guest starring
Henry Gibson as Witch Judge
Kellye Nakahara as Pele
David Alan Graf as Uncle Danny
Susan Angelo as Dr. Merchant
Lisa K. Wyatt as Aunt Ruby
Quotes
Magic Notes
Uses of Magic
Spells
To Relax a Pregnant Cat (failed and transferred her kittens into Mrs. Kinkle)
(Cast by Sabrina Spellman)
Until this cat gives birth to a litter,
Make her calm and relaxed for her new cat sitter.
To Transfer the Kittens Out of Mrs. Kinkle and back into Lola
(Cast by Sabrina Spellman)
There was a spell that went wrong,
Put these kittens back where they belong.
Gallery
Trivia
Libby, Valerie, and Mr. Kraft do not appear in this episode. The previous episode marked the final appearances of Libby and Valerie.
This is the first appearance of Katrina.
Introducing Sabrina's evil twin is an homage to two popular magical sitcoms from the '60s-'70s. Witch Samantha Stephens, the protagonist of Bewitched, had a mischievous identical cousin named Serena. On I Dream of Jeannie, the titular genie has an evil identical sister with the same name.
After two seasons, Sabrina finally receives her Witch's License.
This is the final appearance of Judge Samuels.
In this episode, Sabrina learns that lava is the only substance that can destroy a witch. Although, this could have been said as part of the test and not actually true, especially since Sabrina survives Katrina pushing her in the lava (although she could have been rescued in time).
Running Gag: Zelda being forced to eat sand while Hilda happily cheers on.
Pepe the kitten was originally named Gummo after Salem's father.
If you look closely at the box of kittens in the end of the episode, you'll see that those are actually rabbits.
This episode foreshadows the friendship that Harvey and Salem form after Harvey finds out that Sabrina's a witch.
Chronologically, the TV movie "Sabrina Down Under" takes place after this episode.
This episode contains about two minutes of clips from previous episodes.
Turning Libby into pineapple was an accident and so shouldn't have been included on the video.
Sabrina's evil twin is shown helping mortals with her magic; she helps a handicapped man walk, and rebuilds a little girl's sand castle, and the Witches' Council applauds her for it! In reality, the Witches' Council should have punished Katrina for her actions, since all the things she did were examples of CHARITABLE magic. In season one's "Terrible Things," it was stated that witches' were not allowed to help mortals by using their magic.
When the video clips from previous episodes are played, one of them shows Sabrina using magic to make Mr. Kraft's pants fall down. This was one of the bad things she had supposedly done using magic. However, she was actually under a spell then and had Libby's personality, so technically it wasn't actually Sabrina's personality who had done the bad deed.
Allusion
Sabrina gives Harvey a Dr. Dolittle potion, referencing the fictional doctor who has the ability to talk to animals.

At the time, 20th Century Fox had released a loose comedic adaptation the year before with Eddie Murphy as the titular character.

The episode title is a reference to the title of the classic western movie, "The Good, The Bad and the Ugly."
Four of the kittens' names are a possible reference to the Marx Brothers.
Community content is available under
CC-BY-SA
unless otherwise noted.