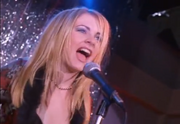 The Band Episode
is the eighteenth episode of
the second season
and the fourty second overall episode of
Sabrina the Teenage Witch
.
Summary
After Harvey finds out that the school is having a battle of the bands, he signs himself up with Sabrina and Valerie as a band, despite never having played a note of music before. When Libby starts rubbing it in that the cheerleaders will be winning the contest, Sabrina brews bottled talent for her band to drink. Needless to say, once they're under the spell of the drink, Sabrina, Valerie and Harvey win the contest and the trio soon become extremely egotistical and their friendship begins to suffer. To remedy the problem, Salem tells Sabrina that she has to take the fizz out of their soda and drink it flat, ruining their chances of performing on television.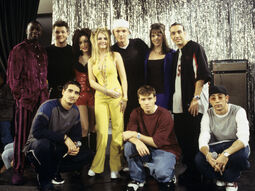 Meanwhile, Zelda has to ask an arrogant scientist from the Other Realm to borrow his formula to use in an experiment and Hilda finds work as fiddle player in a steakhouse but because they are classless hillbillies who only want her to play square dance type of music, she casts a spell on them, turning them into pretentious, high class, classical music lovers.
Cast
Starring
Guest starring
Sherman Howard as Dr. Terdlington
John Ducey as Dwayne Kraft
Special guest stars
Backstreet Boys as Themselves
Quotes
Magic Notes
Uses of Magic
Hilda flings her violin into the kitchen and stabs it with the bow.
Zelda conjures a whoopee cushion.
Sabrina summons Libby.
Zelda takes off the scientist's pants.
Trivia
Harvey says that he cannot play an instrument but in the Season 1 episode "Mars Attracts," as Harvey waits for Sabrina to call him, he plays the guitar. Additionaly, in "Dream Date" when Sabrina asks him if he can play an instrument, Harvey says he can play the bassoon.
The plot for this episode was rehashed in the Season 7 episode ""Ping, Ping A Song" with Sabrina conjuring magic lozenges for herself, Morgan, and Roxie
John Ducey makes a guest apperence as Mr. Kraft's nephew, Dwayne Kraft, who determines which band wins. Ducey later becomes a recurring character in Season 7, portraying Leonard.
This episode was apparantly modeled after a Sabrina comic issue in which Sabrina conjures up Josie and the Pussycats to beat a rival's band.
The episode title is a play on the two homophones "band" and banned".
Sabrina sings "One Way or Another" a well known hit originally sang by Debbie Harry (aka Blondie). Debbie Harry made an appearance in the pilot episode portraying Witches Council member Cassandra.

Beginning with this episode, a new Salem the Cat puppet design debuts, due to the company that made the older Salem animatronic puppets, Animal Makers, being fired from the show. The Salem puppets from here on were produced by Chiodo Brothers.

The Backstreet Boys, Nick Carter, Howie Dorough, Brian Littrell, A.J. McLean and Kevin Scott Richardson, appeared as a group of teenagers, at the end playing basketball, drink the talent potion, and begin singing "As Long As You Love Me", one of their most famous songs.

The Quizmaster appears only shortly in the ending scene.
Community content is available under
CC-BY-SA
unless otherwise noted.