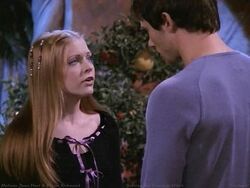 Some of My Best Friends Are Half-Mortals
is the eighth episode of
the fifth season
and the 106th overall episode of
Sabrina the Teenage Witch
.
Summary
Tired of hiding her true identity when dating normal guys, Sabrina agrees to be fixed up by Zelda with a handsome and charming witch named Derek, but the budding romance is threatened when she realizes his family harbors anti-mortal sentiments.
Quotes
Sabrina is preparing for her date with Derek and getting some fashion tips from Salem. She holds up a mid-length skirt.
Sabrina: "Okay, for my date with Derek, how about this?"
Salem: "Too long".
Sabrina holds up a mini-skirt.
Sabrina: "Okay, this?"
Salem: "Too long".
Sabrina: "Salem!"
Salem: "I'm just sayin', don't be afraid to show some skin".
Sabrina: "Oh you mean like this?"
Sabrina points and suddenly, Salem is completely naked.
Salem: "Are you mad woman?! I could catch my death".
Magic Notes
Uses of Magic
Trivia
Bryan Kirkwood, who plays Derek in this episode, was dating Melissa Joan Hart at the time this episode was made.
Dr. Axelrod mentions that Derek attends Boston College and is on the hockey team. Harvey is also apart of the Boston College Hockey Team, so it is possible that the two knew each other.
Sabrina mentions an unseen time when Harvey accidentally tasted a potion that her aunts were making that caused his tongue to grow fur.
Sabrina says that she has vacationed on Jupiter three summers in a row.
Salem bleaches his teeth bright white, in this episode.
The title of this episode comes from the line "Some of my best friends are..." A line used when someone is attempting to justify their prejudices. An example comes straight from this episode when it is said, "Some of my best friends are half-mortals, I just don't want them living in my neighborhood." Obviously, alluding to the issue of racism/prejudice in society.
Anti-mortal thinking has been seen previously from Maw-Maw in Witch Trash.
Sabrina magically gags Salem with gaffa-tape at one point in this episode. Zelda uses the exact same spell on Salem in Season Six's A Birthday Witch.
Community content is available under
CC-BY-SA
unless otherwise noted.