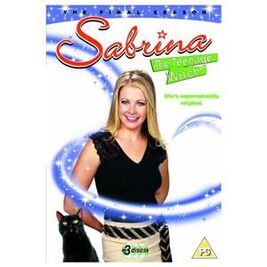 The seventh season of Sabrina the Teenage Witch aired from September 2002 until April 2003, and consists of 22 episodes. This is the final season of the series and mainly focuses on Sabrina trying to live as an adult while she works at Scorch Magazine and her engagement to Aaron Jacobs.
Season Seven has a photo gallery
Summary
She's torn between two guys! Romance is in the air as the seventh season of Sabrina, the Teenage Witch arrives! Now that Sabrina is no longer a teenage witch, her aunts decide to move back to the Other Realm . Yet Sabrina still needs to keep her magic powers in check as she and gal pals Roxie and Morgan move back into the aunts' old Victorian house. Meanwhile, Sabrina has landed a job as a writer for the hip music magazine Scorch, where she meets her future fiance Aaron. But with her former boyfriend Harvey being egged on by mischievous cat Salem, who knows which guy Sabrina will choose? Enjoy every laugh of the romantic- but hilarious- final season of Sabrina, the Teenage Witch!
Main Cast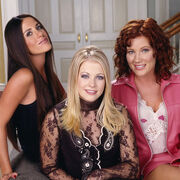 Also Starring
Episodes
Notes/Trivia
Season Seven was the only DVD release to include a bonus feature: TV Movie- Sabrina Goes to Rome.
The episodes "What a Witch Wants" and "Soul Mates" are combined on the DVD to make one long finale.
The engagement story line of season seven was originally intended for Sabrina and Josh, but had to be changed since David Lascher wanted to leave the show after Season Six.
For the first time in the series, Caroline Rhea and Beth Broderick do not have second and third credit. Elisa Donovan takes second credit and Nick Bakay takes third. Soleil Moon Frye is saved till last in the opening with "And Soleil Moon Frye as Roxie".
Certain parts of the Spellman house were redecorated during the time between the sixth and seventh season, including the living room, the dining room, the second floor hallway, and Sabrina's room. The cabinet that Aunt Zelda and Aunt Hilda antiqued in season 2's "Oh What A Tangled Spell She Weaves" is seen in the living room next to the stairs.
This is the only season in which Sabrina is the only main character with magic.
The show's budget was cut considerably for this season. Due to this: Trevor Lissauer does not return as Miles Goodman, noticeably less magic is used and certain sets are converted; therefore some locations (such as the Coffee House) are sacrificed for new ones.
It is believed that if Caroline Rhea and Beth Broderick had stayed, Season Seven would have involved Hilda and Zelda giving up their powers and attempting to lead completely mortal lives. Therefore still sticking to the plot of Sabrina taking care of herself and her own magic and also accommodating the budget cuts (less special effects).
This is the only season of the series that doesn't include a Halloween themed episode.
The opening sequence from seasons 5 and 6 is mostly kept the same, however the images of Hilda and Zelda were removed and the ending where Sabrina magically appeared in her college dorm room and landed on her bed next to Salem is changed to Sabrina walking into Scorch Magazine's building and appearing in her living room to greet Roxie, Morgan and Salem. 
As with Harvey/Seth(movie pilot), Harvey/Dashiell, and Harvey/Josh, Sabrina's new love triangle becomes Harvey/Aaron.
Community content is available under
CC-BY-SA
unless otherwise noted.