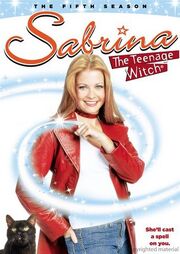 The fifth season of Sabrina the Teenage Witch aired from September 2000 until May 2001, and consists of 22 episodes. The season mainly focuses on Sabrina juggling romance and magic with her new college lifestyle.
Summary
She's finally on her own! Melissa Joan Hart is back as Sabrina Spellman, television's most popular teen witch! This season, Sabrina's enrolled at college in Boston, where she discovers just how hard it is juggling school, romance, and three new room mates: straight talking Roxie, resident adviser Morgan, and science geek Miles. Still working at the coffee house with her secret crush Josh, Sabrina is surprised when Aunt Hilda decides to buy the popular establishment. Since Aunt Zelda now teaches at Sabrina's college, talking cat Salem is able to conjure up even more outrageous schemes!
Main Cast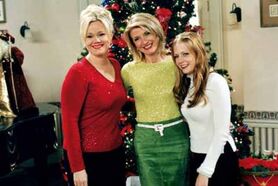 Also Starring
Episodes
Followed by Season Six
Gallery
Click here to view the gallery of Season 5.
Notes/Trivia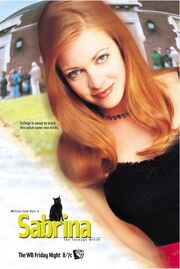 Season Five was the show's first season on the WB network (having been on ABC previously), this is one reason for the many cast and staff changes.
Originally, starting with this season, the show was to be redubbed as just Sabrina, since technically Sabrina was no longer a teenager. However, Archie Comics, which owns the rights to the Sabrina character, prohibited the show from changing the title. However, for marketing purposes, the WB called the show Sabrina or Sabrina Goes to College in most advertisements.
Sabrina's look changes gradually but drastically over the course of the season. Most notably her hair: starting off strawberry blonde and finishing auburn. This is the only season where Sabrina's hair isn't her usual golden blonde.
This and the following seasons received the lowest ratings of the series, with the ranking going from 57th on the fourth seasons to 146th in the seventh and last season. While also the (estimated) numbers of viewers dropping from 10.2 millions to 3 millions on the said seasons, respectively.