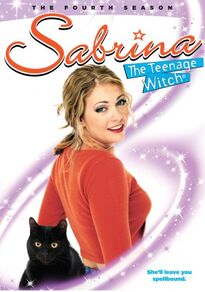 The fourth season of Sabrina the Teenage Witch aired from September 1999 until May 2000, and consists of 22 episodes. The season mainly focuses on Sabrina's final year of high school, her mentoring young witch Dreama, avoiding Harvey's new best friend Brad the witch hunter, and her love triangle between Harvey and Josh.
Season Four has a photo gallery
Summary
No one can resist her! The magic and laughs return as Sabrina, the Teenage Witch returns for season 4. This year Sabrina turns eighteen, only to discover she must now mentor another teen witch, Dreama. Also, newly promoted Principle Kraft is still dating Aunt Zelda, much to the chagrin of Aunt Hilda, who this season buys a magic clock shop. But with her boyfriend Harvey, her talking cat Salem and her new boss Josh in her corner, this popular teen always saves the day! Highlights include Sabrina and Harvey's prom, plus a season-end twist you won't believe! The magic never ends on Sabrina, the Teenage Witch!
Main Cast
Also Starring
Episodes
Followed by Season Five
Notes
This is the final season of the series to be aired on ABC. After the network cancelled the show, it was picked up by The WB.
This season is the final of what fans call "Classic Sabrina" or the "High School Years." It also features the final appearances of characters such as Roland, Mrs. Quick, and Mr. Kraft.
This is the first season that Libby does not appear in.
Valerie is mentioned in "No Place Like Home" when Sabrina says that Valerie is coming to stay. However, Valerie does not appear in the episode. It is later announced that Valerie is unable to come to stay with Sabrina. 
The second TV Movie, "Sabrina Down Under," aired during this season's run.
A screencap from "Sabrina Down Under" was used on the back of the season four DVD cover (Sabrina riding on Spout), however the movie was not included in the set and has yet to be given an official DVD release.
Community content is available under
CC-BY-SA
unless otherwise noted.