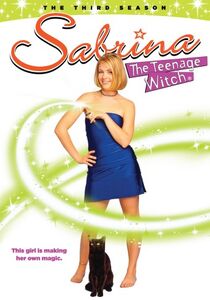 The third season of Sabrina the Teenage Witch aired from September 25, 1998 until May 21, 1999, and consists of 25 episodes. The season mainly focuses on Sabrina trying to discover her family secret so that she can finally use her Witch's License.
Season Three has a photo gallery
Summary
She's got the magic touch! Doesn't every girl secretly wish she had magical powers? Sabrina the Teenage Witch stars Melissa Joan Hart as the adorable teen who this season finally gets her witch's license. But there's a catch! Before she can use it she must uncover a family secret, with help from her wacky Aunt Hilda, wise Aunt Zelda and her talking cat Salem. And while they may advise her to keep her magic hidden, at school Sabrina still helps cute steady Harvey and best friend Valerie, while protecting herself against rival Libby and mean Mr Kraft.Season 3 highlights include an outrageous Halloween episode, and a finale set in Hawaii, where the family secret is revealed!
Main Cast
Episodes
Notes
Sabrina cuts her hair to a bob. This is the shortest she has it in the series. This is the first of two times that she changes her usually long blonde hair.
This is the only season in which Zelda has long hair.
This is the only season to not begin with a whole new year. It takes place during the second semester of Sabrina's junior year.
The first TV Movie, Sabrina Goes to Rome, was aired during this season's run.
Community content is available under
CC-BY-SA
unless otherwise noted.