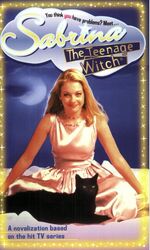 A series of novels based on the
Sabrina the Teenage Witch
sitcom was released 1997-2004. The books were written by various authors and published by
Simon & Schuster Ltd.
The majority of the books were numbered; fifty-two standard volume releases in total, however there were also three special unnumbered releases:
"Sabrina Goes to Rome"
,
"Sabrina Down Under"
and
"Ten Little Witches"
.
Volumes 17 and 29 of the series "Eight Spells a Week" and "Millennium Madness" respectively, also stood out from the other releases, as they were much larger books than usual and were labelled "Super Editions". "Eight Spells a Week" was also unique as it was a compilation of eight short stories. Fans were able to subscribe to the "Sabrina Book Club" and have the latest novels sent to them upon release.
Volumes
Numbered
1) Sabrina the Teenage Witch
2) Showdown at the Mall
3) Good Switch Bad Switch
4) Halloween Havoc
5) Santa's Little Helper
6) Ben There, Done That
7) All You Need is a Love Spell
8) Salem on Trial
9) A Dog's Life
10) Lotsa Luck
11) Prisoner of Cabin 13
12) All That Glitters
13) Go Fetch
14) Spying Eyes
15) Harvest Moon
16) Now You See Her, Now You Don't
17) Eight Spells a Week (Super Edition)
18) I'll Zap Manhattan
19) Shamrock Shenanigans
20) Age of Aquariums
21) Prom Time
22) Witchopoly
23) Bridal Bedlam
24) Scarabian Nights
25) While the Cat's Away
26) Fortune Cookie Fox
27) Haunts the House
28) Up, Up, and Away
29) Millennium Madness (Super Edition)
30) Switcheroo
31) Mummy Dearest
32) Reality Check
33) Knock on Wood
34) It's a Miserable Life!
35) Pirate Pandemonium
36) Wake-up Call
37) Witch Way Did She Go?
38) Milady's Dragon
39) From the Horse's Mouth
40) Dream Boat
41) Tiger Tale
42) The Witch That Launched a Thousand Ships
43) Know-It-All
44) Topsy-Turvy
45) Hounded by Baskervilles
46) Off to See the Wizard
47) Where in the World is Sabrina Spellman?
48) Witch Glitch
49) The Truth Hurts
50) What a Doll
51) Christmas Crisis
52) Now and Again
Unnumbered
Sabrina Goes to Rome (based off the TV Movie of the same name)
Sabrina Down Under
Ten Little Witches
Notes
The first book in the series is the one book without a subtitle. It is based on the Pilot episode.
The books are considered non-canon to the series universe.
Due to the popularity of the novels, a spin-off series based around Salem Saberhagen was made.
Community content is available under
CC-BY-SA
unless otherwise noted.