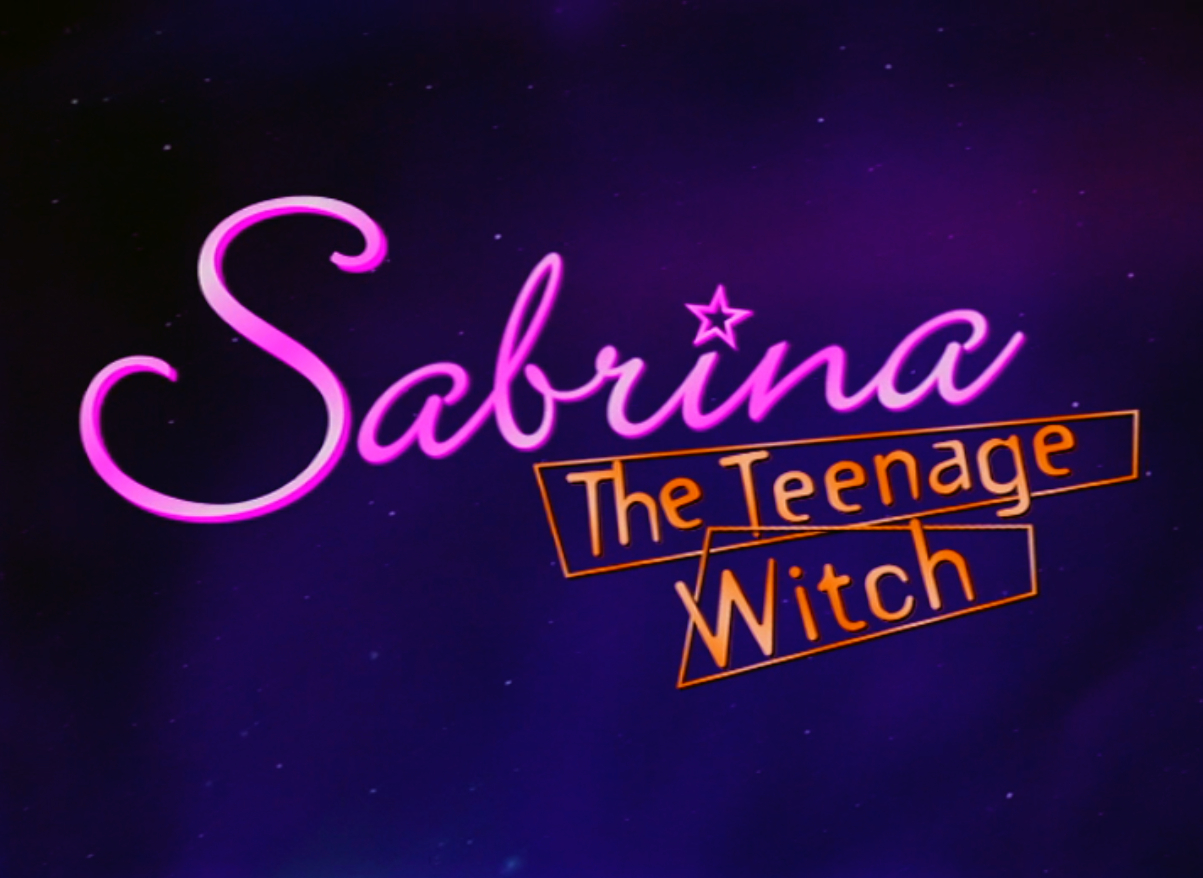 Sabrina the Teenage Witch
was a supernatural sitcom that stars
Melissa Joan Hart
as
Sabrina Spellman
, an American teenager who, on her sixteenth birthday, discovers she has magical powers (a departure from the
Archie Comics
, where she has known of her magic powers since an early age as revealed in the "Sabrina – That Cute Little Witch" storylines in many
Little Archie
comic books). She lives with her 500-year-old aunts, witches
Hilda
(played by
Caroline Rhea
) and
Zelda
(played by
Beth Broderick
), and their magical talking cat,
Salem
(voiced by
Nick Bakay
), at 133 Collins Road,
[1]
in the fictional Boston suburb of Westbridge, Massachusetts through most of the series.
The show premiered on September 27, 1996, on ABC to over 17 million viewers in its "T.G.I.F." line-up.[2] The series' first four seasons aired on ABC from September 27, 1996, to May 5, 2000; the final three seasons ran on The WB from September 22, 2000, to April 24, 2003.[3]
History and production
The unofficial pilot of the series was the 1996 TV movie Sabrina the Teenage Witch in April.[4] The movie, produced by Viacom and Hartbreak Films and aired on Showtime, starred Melissa Joan Hart as the title character, Sabrina Sawyer, and Charlene Fernetz and Sherry Miller as Sabrina's aunts Zelda and Hilda, respectively. When the television series debuted on ABC later that year, Hart became Sabrina Spellman, and Caroline Rhea and Beth Broderick replaced Fernetz and Miller. In 2000, the show was dropped by ABC and picked up by The WB. When viewership began to wane, the show was canceled after seven seasons.[5]
The television series was produced by Hartbreak Films and Viacom Productions with Finishing the Hat Productions being there for season 1 only. Later it was syndicated through Paramount Domestic Television on reruns. Paramount Television|Paramount Network Television absorbed Viacom Productions in 2004, and two years later, Paramount's TV operations were renamed to CBS Paramount Television (now CBS Television Studios), whose name is seen on the season 1, 2, and 3 DVDs. Then in 2007, the syndication arm was renamed from CBS Paramount Domestic Television to CBS Television Distribution, whose name is on the season 4, 5, 6, and 7 DVDs. The official copyright holder for the series (as with all series originally produced by Viacom Productions) is CBS Studios Productions, LLC.
Opening Sequence
The opening titles of the first three seasons shows Sabrina in front of a mirror posing with four different costumes and outfits as the cast members' names quickly flash on the bottom of the screen. The first three outfits are always the same, but the fourth one changes from episode to episode. At the end, Sabrina would say something that is related to the last costume (often a pun or a joke related to the costume or the content of the episode), and then magically disappear from head on down.
The opening sequence for the fourth season is completely redone, featuring a completely new theme and the show's main characters, starting with Sabrina, floating in bubbles while their names are displayed in gold letters and a voice chants "Secret" in the background.
The opening credits for the final three seasons are accompanied by a new vocal theme song and feature Sabrina at various locations around Boston: Harvard Bridge, Boston Common, Union Oyster House, Massachusetts State House, Quincy Market, Newbury Street, Harvard University, Tufts University, and Beacon Hill. In the credits of seasons five and six, after leaving Newbury Comics on Newbury Street, Sabrina walks down a flight of stairs and computer graphics morph Sabrina into her room, lying on her bed next to Salem. In the final season, however, the computer graphics morph Sabrina arriving at Scorch Magazine. Upon pushing the door open, she is revealed to be walking into her house to greet Roxie, Morgan, and Salem.
The actual house photographed and filmed to depict Spellman Manor is a Victorian mansion located at 64 E. Main St. in Freehold, New Jersey.[6] The exteriors for Westbridge High School, which Sabrina attended, were Dwight Morrow High School in Englewood, New Jersey.
Departures
The show went through many cast changes, the first major change being the unexplained departure of Sabrina's best friend Jenny Kelly at the end of the first season. Mr. Pool also left, along with Drell and Skippy.
At the beginning of the fourth season, Valerie departs the show permanently along with Libby. Valerie's character moves away to Alaska with her family, while Libby transfers to a boarding school.
When the series finished its fourth season, several secondary characters left the show, including Martin Mull and Nate Richert. Richert, who played Sabrina's boyfriend Harvey since the first season, was cut in order to give the show a more "grown-up look" as Sabrina was about to attend college. The decision was later rescinded, and Richert appeared in three episodes of season five and then returned as a series regular in season six and seven. Brad and Dreama were also dropped after Season Four, their only season.
After the series' sixth season, Caroline Rhea and Beth Broderick, who portrayed Sabrina's aunts from the show's premiere, decided to leave the show. When the character of Sabrina started to attend college, the role of her aunts became less important. Broderick felt that the role of Zelda had nothing more to offer, while Rhea landed her own syndicated talk show, The Caroline Rhea Show.
Trevor Lissauer, who played Sabrina's housemate Miles, left the show after appearing in seasons five and six. Producers felt that his character wasn't well received by fans and also had to make some budget cuts for the show's seventh and final season. Miles was never properly written out, leaving open what really happened to him.
Sabrina's love interest Josh, played by David Lascher, left for Prague after appearing from season four to six. Lascher reportedly wanted to pursue other projects. In order to fill the void, producers brought in Aaron, played by Dylan Neal, as Sabrina's love interest in the show's final season.
Plot and premise
The show chronicles the adventures of Sabrina Spellman (played by Melissa Joan Hart), a girl who discovers on her sixteenth birthday that she is a witch. As a novice witch, her spells often go awry. Her aunts Hilda and Zelda Spellman (played by Caroline Rhea and Beth Broderick, respectively, until 2002) counsel her on the proper use of her magic and give her moral advice. Additionally, Hilda and Zelda must take care of Salem Saberhagen (voiced by Nick Bakay), a witch turned into a cat for trying to take over the world. Sabrina's basic premise and "genial loopiness" earned the show comparisons to the 1960s television series Bewitched.[7][8][9]
The show included contemporary pop cultural references, with Sabrina often saying she liked Britney Spears and No Doubt. It also mentioned human history alongside witches, such as the Salem witch hunt, which Zelda tells Sabrina was not a hunt for real witches. Hilda mentions to Sabrina in Episode 1 that "For two months a bunny ruled all of England" causing the witches council to turn back time, as if to say mortals are ignorant at the most. One episode also suggests that Jerry Springer is a witch when he hosts The Jerry Springer Show in the other realm.
Whereas the comic book series was set in the fictional Greendale, the TV show was set in fictional Boston suburb of Westbridge, Massachusetts. The Spellmans' house is located at 133 Collins Road.[1]
Ultimately, the show covered a span of seven years over seven seasons, though each season was not a year.[10]
Season 1 (1996–1997)
The pilot episode opens with Sabrina asleep on her 16th birthday, levitating above her bed. In the morning, her aunts reveal to her that she is a witch, but Sabrina does not believe them until she has a magical talk with her father from inside a book, where her father reveals that he is a witch and her mother is mortal. It is also revealed that Sabrina cannot see her mother, who is in Peru for two years, or her mother will be transformed into a ball of wax. After a rough day at school, Sabrina accidentally turns Libby Chesler, the most popular girl in school, into a pineapple. Fearing that she will appear "weird" to her crush, Harvey Kinkle, Sabrina asks the Witches Council to let her relive that day. The first season follows Sabrina as she tries to keep the balance between being a teenager and having magical powers. Sabrina's friend Jenny Kelley and her teacher, Mr. Pool, both exit the series without explanation after this season.
Season 2 (1997–1998)
At the beginning of the second season, Sabrina turns seventeen and learns that she must earn her witch's license or otherwise lose her magic. However, she neglects her aunts' warnings to study for the test to obtain the license and consequently fails it. She then has to attend witch boot camp to earn the chance to take a makeup test. She passes the makeup test, but only receives a learner's permit. Her aunts explain that she will be able to earn her license when she turns eighteen ("when she can pay for the insurance") and that she will be tested throughout the year by a Quizmaster, a witch whose job is to instruct witches earning their licenses. Also introduced during the second season are Sabrina's neurotic friend Valerie and the new school vice principal Mr. Kraft, who finds Sabrina to be very odd and has a crush on Hilda.
Season 3 (1998–1999)
At the beginning of the third season, Sabrina earns her license, but then learns that in order to use her license, she must solve her family's secret. Throughout the season, family members visit her and provide clues. At the end of the season, she solves the family secret ("Every member of the Spellman family is born with a twin"). Both Valerie and Libby exit the series after the end of the third season.
Season 4 (1999–2000)
At the beginning of the fourth season, Sabrina is assigned to be a mentor, which is like a Quizmaster, except "Quizmasters get paid".[11] Sabrina's charge is Dreama, a witch newly immigrated from the Other Realm. A new student, Brad Alcero, transfers to Sabrina's school. Because Brad has a witch-hunter gene (which allows him to turn a witch into a mouse if the witch reveals his/her magic), Sabrina must keep herself and Dreama from using magic in front of Brad. Also, Sabrina begins working at Bean There, Brewed That, a coffee shop, where she meets and is attracted to Josh (played by David Lascher), a college student who is the manager of the shop, which leads to her kissing him and thus cheating on Harvey, who ends their relationship, but they soon get back together. Both Dreama and Brad are written out of the series without explanation over the course of the season. At the end of the season, Harvey reaches his "spell quota" (meaning that no spells can be used on him anymore) and discovers that Sabrina is a witch, and later breaks up with Sabrina off screen and is written out of the show prior to the start of the next season.
Season 5 (2000–2001)
At the beginning of the fifth season, Sabrina starts college at Adams College and moves out of her aunts' house and into a house with other students at Adams. Her roommates are Morgan Cavanaugh, a shallow girl (played by Elisa Donovan); Roxie King (played by Soleil Moon Frye), a social feminist; and Miles Goodman (played by Trevor Lissauer), a geek who is obsessed with science fiction and the paranormal. Hilda and Zelda, feeling lonely since Sabrina moved out, find ways to stay close to her. Hilda buys the coffee shop where Sabrina works and Zelda becomes a professor at Adams and starts dating Sabrina's English professor. The season ends with Sabrina and Josh giving into their feelings and sharing a passionate kiss.
Season 6 (2001–2002)
At the beginning of the sixth season Josh and Sabrina get together but soon face a tough decision when Josh is tempted to move abroad to work as a photographer. Things are made even more complicated between them when Sabrina's ex-boyfriend from high school, Harvey, reappears, this time dating Sabrina's roommate Morgan. At the end of the sixth season, Sabrina agrees to sacrifice true love in order to save Hilda after the latter literally falls to pieces after Sabrina sabotages her relationship. Hilda recovers and is married, but Sabrina then falls to pieces when Josh, Harvey, and an attractive waiter announce they are all moving away and will never see her again.
Season 7 (2002–2003)
At the beginning of the seventh and final season, Sabrina is put back together after her Aunt Zelda sacrifices her adult years to save Sabrina. At this point, Zelda, Hilda, Miles, and Josh are written out of the show and Morgan and Roxie move into Hilda and Zelda's old house. Sabrina gets a job as a writer for the entertainment magazine Scorch, but this storyline and all the associated characters are dropped midway through the season. Sabrina then meets Aaron, the man to whom she becomes engaged. In the series finale Sabrina calls off her wedding with Aaron and runs off with Harvey, her soul mate, at 12:36, which is the time of day they first met and is a plot point in the season one episode As Westbridge Turns. In the last scene of the series, Sabrina and Harvey ride off on his motorcycle to the song 'Running' by No Doubt, Sabrina's favorite band.[3]
Cast and characters
Main article: Sabrina the Teenage Witch Characters
References
↑ 1.0 1.1 Mentioned in Season 1, Episode 23, The Crucible.
↑ "Debut Of ABC's 'Sabrina' Lures More Than 17 Million Viewers", Orlando Sentinel, October 3, 1996
↑ Season 1 and 2 cover exactly a year each, with Sabrina being 16 and 17 respectively. In Season 3 her age is not revealed, but in the Season 4 opening episode she turns 18, implying Season 3 also covers her being 17 as well. Season 4 covers her 18th birthday and that year. Season 5 starts a summer later, with Sabrina being 19 - she spends three years at college in journalism which is covered in Seasons 5 and 6. She has graduated by the beginning of Season 7 (as she's living in the Spellman House with Roxie and Morgan and working), meaning she is aged up to 22 over two seasons covering three in universe years. In the final Season Sabrina is 23.
Community content is available under
CC-BY-SA
unless otherwise noted.