Sabrina Unplugged is the 6th episode of the seventh season and the 147th overall episode of Sabrina the Teenage Witch.
Summary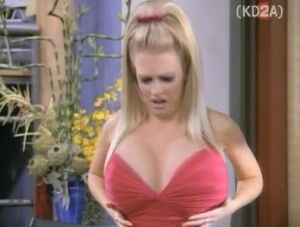 When Sabrina is caught by the office webcam using her powers, she magically enters Leonard's computer to destroy the evidence. While she is in the computer, Leonard alters Sabrina's body (thinking it's just a picture of her), making her breasts and butt become enormous, bleaching her hair and putting her in a very revealing red dress and a bulky '60s hairstyle. When Sabrina re-emerges from the computer she finds that she can't reverse the transformation or change out of her outfit, leaving her stuck in her new "bimbo" body.
Magic Notes
Uses of Magic
Trivia
The episode title is based on the series 'MTV Unplugged.'
This episode includes an appearance from Scooby Doo and Shaggy.
This episode storyline is probably the most blatant of adult themes that the series developed more of in its later seasons. There is also a scene in which it is implied that Leonard had a foot fetish.
Steven M. Porter previously appeared in season 3 as Bryce in "Sabrina's Real World."