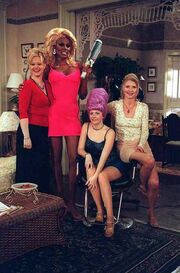 Sabrina's Choice
is the twenty fourth episode of
the second season
and the fourty eighth overall episode of
Sabrina the Teenage Witch
.
Summary
When Sabrina plays one aunt against the other to get her way, Hilda and Zelda decide it's in Sabrina's best interest if they live in separate homes. However, the situation becomes a great deal more complicated when the witches council rules that Sabrina must choose between her aunts. Sabrina gets to see her future with Hilda and her future with Zelda to decide with which aunt she wants to stay. With Hilda, Sabrina become a slob, and Harvey marries Libby and has a child with her. With Zelda, Sabrina becomes a scientist that has to discover why Harvey's body has dissolved. This is when Sabrina decides that she must reunite her aunts so they can all live together.
Cast
Starring
Guest starring
RuPaul as Witch Judge / Hairdresser
Kel Johari Rice Mitchell as Kel Kimble
Kenan Thompson as Kenan Rockmore
Curtis Andersen as Gordie
Quotes
Magic Notes
Uses of Magic
Sabrina levitates her bag.
Sabrina zaps herself to her room.
Zelda appears in Sabrina's room and summons a thunderstorm.
Hilda summons her suitcase.
Sabrina gets sucked into her locker.
The letter shrinks and disappears.
Sabrina and Quizmaster appear in front of the council.
The hairdresser turns into the judge.
Trivia
Valerie does not appear in this episode.

For all the scenes in Hilda's new house, the image is mirrored. This was done before in the Season 1 episode "Sabrina Through the Looking Glass."
When Mr. Kraft sees the paper disappear, he blamed his ex-wife. We later find out that his ex-wife Lucy Kraft is a witch, in the Season 3 episode Mrs. Kraft.
Kenan Thompson and Kel Mitchell crossed over as their characters from the Nickelodeon show Kenan & Kel in this episode.
Celebrity drag queen RuPaul makes a special guest appearance in this episode as a Witch Judge. He appears in the episode dressed as a woman and as a man.
When the Witch Judge says "And I'm thinking Orpanhage" is a parody of Oliver Twist when Bill Sykes says that to Fagin about Oliver.
Community content is available under
CC-BY-SA
unless otherwise noted.