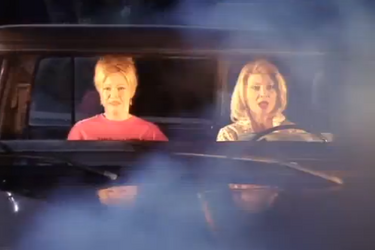 Rumor Mill is is the twenty fifth episode of the second season and the forty ninth overall episode of Sabrina the Teenage Witch.
Summary
The Quizmaster assigns Sabrina to do community service in the Other Realm, and Sabrina and her new friend Dashiell are coerced into working at the Rumor Mill for his uncle Calzone. The two half-mortals start telling absurd tales about their friends and family, unaware that their fibs will literally come true in the mortal realm: Mr. Kraft and Mrs. Quick become lovers, Libby is thrown out of her house by her parents, Harvey becomes miraculously pregnant, Salem becomes a mob boss, and Hilda and Zelda are abducted by aliens. Meanwhile, Sabrina and Dashiell begin having feelings for each other.
Cast
Starring
Guest starring
Quotes
Magic Notes
Uses of Magic
Zelda summons a ball and a chain onto Sabrina's ankle.
Quizmaster appears
Dashiell transports himself and Sabrina into the Rumor Mill.
Spells
To Summon the Quizmaster
(Cast by Sabrina Spellman)
Quizmaster, Quizmaster, helping others is great
Now get your butt in here before it's too late.
Trivia
Valerie does not appear in this episode.
Dashiell is the first half-mortal witch Sabrina has met so far on-screen and the first witch that she has become friends with. She becomes friends with British witch Gwen soon after in the TV movie "Sabrina Goes to Rome," and befriends her tutee Dreama in Season 4. We later find out in the Season 6 episode "Cloud Ten" that Sabrina has a best friend who she grew up with before she moved to Westbridge who also found out that she was a witch at the same time as her.
Dashiell is the second of three witch boys that Sabrina dates over the course of the show.
Donald Faison (Dashiell) previously appeared on Sabrina in the role of Justin in the Season 1 episode "Magic Joel." Faison also co-starred in Clueless, a fellow former ABC show that Melissa Joan Hart crossed over to as Sabrina. Faison is the first of four Clueless actors to become characters on Sabrina.
This episode reunites Martin Mull (Mr. Kraft) and Fred Willard (Bobby Calzone) who had recurring roles on the sitcom Roseanne as a gay couple.
One of Hilda's choices for her and Zelda's vacation is the 3rd ring of Saturn. She and Sabrina will visit an amusement park on the rings of Saturn in the Season 5 episode "You Can't Twin."
The epsoide Just A Rumor from the cartoon Sabrina's Secret Life also features a Rumor Mill