Jurassic World: Dominion Dominates Fandom Wikis - The Loop
Play Sound
Roxanne "Roxie" King is the tough as nails college roommate of Sabrina Spellman.
Character
Sabrina first describes her as "cranky," but the two quickly become best friends. Roxie is a passionate supporter of many causes, including: feminism, animal rights, anti-nuclear weapons etc. Her social awareness is later put to good use, as she is the host of a radio chat show in which she discusses and debates various topics with listeners. After college, in the final season, Roxie moves into the Spellman house with Sabrina and Morgan Cavanaugh.
Biography
College Life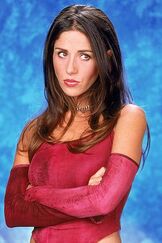 At first, Roxie showed a strong disliking towards Sabrina because she claimed she knew Sabrina's type (high school girl, cute, smart with a good-looking boyfriend) but Sabrina revealed how dysfunctional her life could be and Roxie slowly warmed up to her. They later became very good friends along with Morgan and Miles. Though having a generally good relationship, Roxie would often clash with Morgan, due to pretty extreme difference in personalities. Roxie presented herself as extremely socially and environmentally conscious. It is revealed that Roxie has had a relationship with a police officer whom she had met at a previous protest. Throughout the college years, Roxie put up the front that she despised the thought that her housemate Miles had romantic interests in her. However, it was revealed she had a dream about Miles and a romantic future between the two of them was hinted at many times (most notably when Sabrina casts a spell to view Miles' future and sees a family photo). Sabrina casts a spell on Roxie to make her see the good points of Miles, bringing out an exaggeration of her possible true feelings for him. Roxie also dated Issac Hanson (although before he became famous).
Adult Life
Roxie moves into the Spellman house with Sabrina and Morgan after Sabrina's aunts left. Roxie was revealed to have a tattoo saying 'I heart Hanson'. She was considering having it removed so the status of this tattoo is unknown. When Sabrina feels bad about the extreme results of a "Trust Spell" she casts on Roxie (very nearly getting her killed), Sabrina tells Roxie that she is a witch. Roxie thinks that Sabrina is joking around and becomes annoyed with her. Sabrina quickly manages to take it back and gives Roxie an explanation that saves their endangered friendship. Roxie is made one of Sabrina's bridesmaids and does a lot to help out with the wedding. In the final scene of the series, Roxie says "I guess that's the 'something old' she needed" when seeing the reunion between Sabrina and Harvey.
Notes/Trivia
Soleil Moon Frye was auditioned to play the youngest sister-witch, Paige Matthews, in the 1998 supernatural drama "Charmed". However, this role was given to Rose McGowan and Soleil won the role of Roxie in "Sabrina" very soon after.
Roxie was the only mortal outside of Sabrina's family who Sabrina revealed her secret to voluntarily (not including times when she knew their memories would be erased). However, Sabrina took it back in the end, when Roxie thought she was joking.
Soleil Moon Frye and Melissa Joan Hart had been good friends since the age of 4; repeatedly seeing each other as child stars, until they finally got to work with each other long term when Soleil joined Sabrina in their early 20s. The two of them remain very close friends.
At some point in her future after Soul Mates, it is believed that Roxie would have reunited with former character Miles Goodman, as Sabrina saw that they would be married in a vision of the future. Although, this is debatable since that particular episode centered around Sabrina changing Miles' path in order to save him from a job he hates, so it is unknown whether she could have changed other aspects of his future in the process.
Sometime after season 5, Roxie becomes a vegetarian (and sometimes vegan). She has this in common with Jenny Kelley who was also a best friend to Sabrina. Toward the end of season 5, Roxie had filleted a pig and later made a "pig salad sandwich" for herself with the leftovers.
"Sabrina's New Roommate" appears Roxie has an uncle named "Louis the Lip", seemingly a mobster.
"Driving Mr. Goodman" appears Roxie is from New York (and has a cousin in New Jersey with mob ties). This is despite the fact that "A Birthday Witch" established Isaac Hanson as one of her ex-boyfriends, and the Hanson brothers are from Tulsa, Oklahoma, which kind of necessitates Roxie being from there as well.
Soleil Moon Frye is billed with "And Soleil Moon Frye as Roxie" throughout her three seasons on the show. The only exception to this was in "Witchright Hall", where she was billed with a standard credit, followed by "And Emily Hart as Amanda". In future appearances, Emily Hart was billed as a "special guest star", so Soleil kept her usual place in the billing.
She is similar to Aunt Zelda Spellman except she is not strict or tough on Sabrina. She is more of a loner type.
Photos