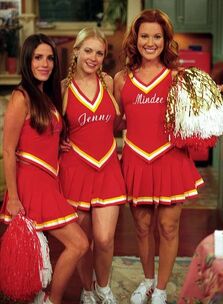 Really Big Season Opener
is the first episode of
the sixth season
and the 120th overall episode of
Sabrina the Teenage Witch
.
Summary
Sabrina and Miles decide to team up for the production of a student horror film that includes a bloodsucking vampire, gloomy cheerleaders and a helpless maiden. But their quest for the perfect cast leads them to one performer who seems to play his role a little too well. Sabrina must now stop Vladimir Kortensky, an actual vampire, from sucking the blood of her roommates.
Meanwhile, Hilda and Zelda are summoned to the Other Realm for Scare Duty---the witch equivalent of jury duty---to teach the younger generation how to be more frightening. Unfortunately, the kids aren't reacting to their old-school methods, so they have to formulate a plan to update their spookiness.
Magic Notes
Uses of Magic
Notes
This is the second time a Sabrina premiere has included the words "season opener" in its title. The first was season 3's "It's A Mad, Mad, Mad, Mad Season Opener".
This was the only season premiere to air in October rather than September.
Sabrina has returned to her natural golden blonde hair color after having dyed it red in the previous season.
This episode parodies Buffy the Vampire Slayer, The Matrix, and Scary Movie.
The character Sabrina plays in their movie shares the same name of Sabrina's best friend in the first season of the series, Jenny Kelley.
Community content is available under
CC-BY-SA
unless otherwise noted.