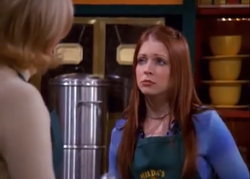 My Best Shot
is the eleventh episode of
the fifth season
and the 108th overall episode of
Sabrina the Teenage Witch
.
Summary
Sabrina tries to give Josh a little confidence booster in his new passion to be a photographer, but her simple spell to help him make his first sale leads to his getting a big head and walking out on his job at the coffee house.
Meanwhile, Zelda and Salem audition for a commercial for cat food called "Little Wussies." Although Zelda gets the job, Salem loses out, but Zelda is less than pleased with the commercial when it doesn't show her face.
Quotes
Zelda: (after viewing the commercial) "That's it? Three and a half hours in hair and make-up, and they don't even show my face?"
Salem: (rubbing it in) "That's showbiz, babe. You tried, you lost, get over it".
Zelda hisses at him.
Magic Notes
Uses of Magic
Sabrina uses Magic to get customers at the Coffee house to pay for Josh's photographs.
Trivia
Roxie and Morgan do not appear in this episode. It is said that Roxie is at her family reunion and Morgan is shopping in New York.
Hilda claims to have advised Rome during the time of Julius Caesar, but she wasn't born until 1351, which is 1395 years after Caesar's death.
Sabrina has dyed the hair on her head to auburn, which it will stay for the remainder of the season.
In order to blackmail Zelda, Salem says that he has scandalous pictures of her and the Brothers Grimm who were the eighteenth-century writers who popularized the most popular fairy tales of all time such as Cinderella, Hansel, and Gretel, Rapunzel, etc.
Why Sabrina did not use "humble pie" from previous episodes in order to shrink Josh's ego is not addressed.
Community content is available under
CC-BY-SA
unless otherwise noted.