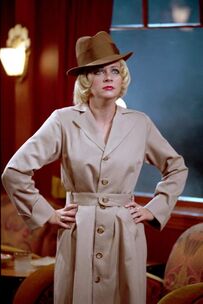 Murder on the Halloween Express
is the fourth episode of
the sixth season
and the 123rd overall episode of
Sabrina the Teenage Witch
.
Summary
Sabrina takes a holiday idea from Salem and brings her friends on the spooky Mystery Train for a Halloween adventure. There's just one problem: it's an Other Realm train. Sabrina soon learns that they can leave only if she solves the puzzling murder when she and all of her friends become characters straight out of a 1920's murder mystery.
Magic Notes
Uses of Magic
Will

turns everyone into their character on the train.
Zelda Spellman and Hilda Spellman use the crystal ball to see Sabrina Spellman.
Notes
This is the series' sixth and last Halloween episode.
Will, the Mystery Train conductor, will later play an important role in the season finale, "I Fall to Pieces". His reapparance will basically shape the remainder of the series.
We meet Salem's grandfather in this episode. He's apparently a hobo on the Mystery Train. He is the third and final member of Salem's family that we meet.
This is the final Halloween themed episode of the series. 
Glitches
When Hilda and Zelda magically change outfits, Zelda's magic effect (violet sparkles) is seen shooting out of both Zelda and Hilda's fingers. 
Harvey has his memory erased at the end of the episode, despite the fact that he had reached his "spell quota" in The End of an Era. He is, however, the only one to be fully aware that his memory has been wiped.
Community content is available under
CC-BY-SA
unless otherwise noted.