Jurassic World: Dominion Dominates Fandom Wikis - The Loop
Play Sound
Morgan Cavanaugh is a mortal who was one of Sabrina's roommates when she started at Adams College, as well as her resident advisor. Morgan is quite a shallow, over-assertive and superficial young woman, but she quickly becomes one of Sabrina's best friends. Morgan later moves into the Spellman house with Sabrina and Roxie.
Biography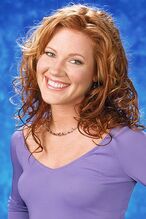 Morgan comes from a relatively wealthy family who spoiled her. Because of this, she doesn't really understand common values and can often be inconsiderate of others. Morgan doesn't prioritize her education, often preferring to talk her way out of hard work. However there have been instances of Morgan's softer side. For example, Sabrina sees one such instance at Christmas, when Morgan's parents are overly critical of her and the thoughtful gift she buys for them. She finally stands up to them in the end, showing a strength she hadn't revealed before meeting Sabrina. In the middle of season 6, her parents cut her off because of her shallowness and her shopping habits. To earn money and pay for the rent, she got a job working at the coffee house working with Sabrina and Hilda.
Throughout college, Morgan is seen as dating many different guys, including both Josh and Harvey, much to Sabrina's chagrin and annoyance. However, due to her personality, she does not remain with one guy for too long.
After college graduation and Sabrina's aunts Hilda and Zelda move back to the Other Realm, Sabrina invites Morgan (and Roxie) to live with her at their home in Westbridge. She becomes much closer with Sabrina. Throughout the final season, Morgan attempts to further pursue her career as a fashion designer and at one point gets the oppurtunity to dress Daniel Bedingfield for Scorch Magazine. However, Morgan is fired from the job once it is made clear that Morgan's unconventional designs don't suit the magazine's style. Morgan continues to design clothes, employing a trio of old women to sew for her, much to Roxie's appallment.
Sabrina saves Morgan's life when she nearly falls down an elevator shaft, angering The Fates who claim it was Morgan's time to die; fortunately, Sabrina manages to evade their fury. Morgan is one of Sabrina's bridesmaids at her wedding.
Trivia
Elisa Donovan co-starred in the '90s teen television series "Clueless" on which Melissa Joan Hart guest starred, portraying Sabrina, in a cross-over.
She is similar to Hilda Spellman and both of them were both fun and cool.
Morgan dated both of Sabrina exes Josh Blackhart and Harvey Kinkle.
Some aspects of her character - especially her shallowness - are similar to Sabrina's arch-enemy Libby Chessler. However, Morgan has a conscience and shows remorse, and is more of a friend to Sabrina than a nemesis.
She might be of Irish descent, based on her red hair and last name.
Photos