Mom vs. Magic is the twenty-sixth episode and the finale of the second season of Sabrina the Teenage Witch, and the fiftieth episode overall.
Summary
Sabrina must renounce one of the two things she holds most dear. The teen's dreadful dilemma develops when she must decide whether to date Harvey or new love interest Dashiell. She needs advice, but her loved ones are busy celebrating Mother's Day, leaving lonely Sabrina longing for her mom's guidance. Rules prohibit the unlicensed witch from seeing her mortal mother until she's certified, so Sabrina writes her a letter instead. Unfortunately, all contact is forbidden, so the Witches Council hands down a devastating decree: Sabrina must choose between her magic and her mom.
Meanwhile, Salem's mother is also coming to visit and he hasn't told her he's spending the next hundred years as a cat. And Hilda and Zelda visit their mom and find that she is gone and then debate about who is their mother's favorite with Hilda expressing her resentment of always being treated poorly by her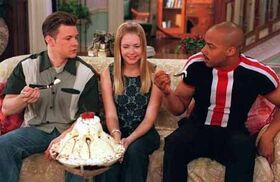 Cast
Main
Guest Starring
Quotes
Magic Notes
Uses of Magic
Sabrina sends Salem from one end of the counter to the other.
Sabrina creates a door.
Dashiell creates a rainstorm.
Sabrina sends Dashiell away.
Dashiell appears.
Sabrina sends a paper airplane to her mother.
Quizmaster appears.
A scroll appears in Quizmaster's hand.
Quizmaster leaves.
Sabrina sends Quizmaster away.
A montage of previous magic is shown.
Quizmaster takes Sabrina's magic.
Quizmaster sends Sabrina to her mother.
Quizmaster returns Sabrina's magic.
Sabrina zaps Quizmaster into a chicken truck.
Spells
To Send Harvey's Mom a Mother's Day Gift
(Cast by Sabrina Spellman)
To get Harvey's mind off this romantic rift
Send his mom the ideal gift
Trivia
This is the first appearance of Sabrina's mom, Diana. Pamela Blair portrays Diana for only this episode and Alley Mills will take over the role in later episodes.
This is the final appearance of the Quizmaster.
In this episode, Emily Hart plays young Sabrina. But the role she is known for on the show is Amanda, Sabrina's cousin.
This is the first mention of Vesta since her only appearance in the Season 1 episode Third Aunt From the Sun. She would only be mentioned once more in the series in the episode Little Orphan Hilda
Chronologically, the TV movie Sabrina Goes to Rome takes place after this episode.
This episode aired out of production order. Meaning that "Sabrina's Choice", not "Mom vs. Magic" may have been intended as the season finale.
On the Season Two DVD release, this episode was incorrectly titled "Sabrina vs. Magic".
This is her final test to get her Witch's License and she will be full fledge witch.