It's a Hot, Hot, Hot, Hot Christmas is the 9th episode of the seventh season and the 150th overall episode of Sabrina the Teenage Witch.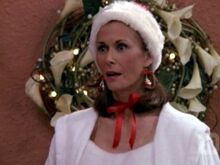 Summary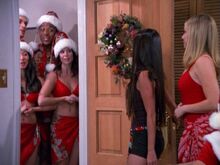 When Sabrina, Roxie, and Morgan go to Miami with Leonard to celebrate Christmas, they have a run-in with Roxie's mother, Candy, at their time share. However, when their place gets robbed, Candy gets accused, ultimately leaving Sabrina and Morgan to help Roxie clear her mother of the charges. Meanwhile, when Leonard finds out that Sabrina brought Salem along to the condo, he tells her to put him into the condo's kennel, where Salem complains about being treated like an animal and Morgan enters the "Miss Wet Christmas" contest.
Magic Notes
Uses of Magic
Sabrina turned back time to see who was a real burglar;
Sabrina started a snowfall to make Christmas perfect.
Notes/Trivia
Harvey doesn't appear in this episode.
This is the only appearance of Roxie's mother, although she has been mentioned regularly by Roxie in previous episodes.
The title is a reference to the 1963 movie "It's a Mad, Mad, Mad, Mad World".
At the end of the episode, Sabrina changes the weather so it can snow, but she didn't turn into a snowman. In the episode, "Sabrina, Nipping at Your Nose," Sabrina and Hilda change the weather and they get changed into a snowmen by Mother Nature.