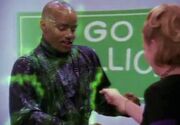 It's A Mad Mad Mad Mad Season Opener is the first episode of the third season and the fifty first overall episode of Sabrina the Teenage Witch.
Summary
Sabrina finally earns her witch's license which will grant her access to her full magic power. Sabrina hopes to use it to choose between Harvey and Dashiell. However, at her celebration party, she discovers that she cannot use her license until she figures out the Spellman family secret. Her family members will visit sporadically to help her uncover it. Meanwhile, her romantic dilemma continues as Sabrina has to choose between Harvey and Dashiell the mortal way. She casts a spell to reveal who her heart wants. As always, it takes a turn for the worst when the two boys start fighting in the middle of the high school. When Sabrina's cousin Doris shows up to help her with the family secret, Sabrina makes her mad and she starts spreading slime. Sabrina only has time to save one of the boys and this makes her realize that she truly wants to be with Harvey.</span>
Meanwhile, Salem takes a liking to playing online chess and insults his Albanian opponent, Yuri. He gets an unexpected visit from Yuri, who's looking to defend his mother's honor by killing the cat.
Also, Sabrina is chosen to select the theme for the school dance and picks Grease but of course Mr. Kraft has his own ideas favoring Billy Jack. Additionally, he and Zelda start dating.
Cast
Starring
Guest starring
Carol Ann Susi as Doris
Donald Adeosun Faison as Dashiell Calzone
Rick Cramer as Yuri
Quotes
Magic Notes
Uses of Magic
Dashiell appears.
Hilda and Zelda freeze Harvey and Dashiell.
The license office turns into a banquet hall.
Doris sends Sabrina's witches' license to the Spellmans.
Doris shoots green goop.
Dashiell disappears.
Spells
To reveal your true heart's desire, sing with hand over chest: (sung by Sabrina Spellman)
What's it all about, Alfie?
Is it just for the moment we live?
What's it all about, Alfie?
Trivia
This is the only season of Sabrina to not begin with a whole new school year.
In the beginning of season two, it is mentioned that Sabrina won't get her license for a year, but since season three is the same school year as the last season, she shouldn't have gotten her license until season four.
As of this episode, Valerie is the first friend of Sabrina's to last more than one season, something that won't be done again until the introduction of Morgan and Roxie. They beat Valerie by one more season.
Libby does not appear in this episode. This is the first time she does not appear in the season premiere.
This is the final appearance of Dashiell.
Mr. Kraft tells Sabrina to choose Billy Jack as the movie theme for the ball. Billy Jack is the second, and highest grossing, in a series of motion pictures centering on a fictional character of the same name, played by Tom Laughlin.
The episode title alludes to the 1963 movie, "It's a Mad Mad Mad Mad World." This movie would be used as inspiration for a title again in Season Seven (It's a Hot, Hot, Hot, Hot Christmas).
The most dangerous time to ride a vacuum is during light rain.
Community content is available under
CC-BY-SA
unless otherwise noted.