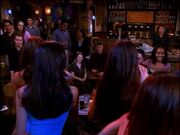 Hilda's Coffee House, previously named Bean There, Brewed That; is the coffee house where Sabrina works in Seasons 4-6. It was Sabrina's first place of long-term employment in the series.
Sabrina began working at the coffee house in the Season 4 episode "Episode LXXXI: The Phantom Menace." At the time, Josh Blackhart was the manager. It also replaced The Slicery as the hangout for Sabrina and her friends.
In Season 5, Sabrina's Aunt Hilda buys the business and self-titles the establishment.
After Season 6, Hilda moves back to the Other Realm, Sabrina stops working there, and she and her friends begin hanging out at Eve's Diner instead. The coffee house also presumably closed, as a result of Hilda's move.
Notes/Trivia
Community content is available under
CC-BY-SA
unless otherwise noted.