Jurassic World: Dominion Dominates Fandom Wikis - The Loop
Play Sound
Harvey Kinkle
Vital statistics
Species
Mortal
Physical description
Gender
Male
Further info
First appearance
Pilot
Last appearance
Soul Mates
Portrayed by:
Nate Richert

Images

|

Quotes
Harvey Dwight Kinkle is the husband, best friend and former high-school sweetheart of Sabrina Spellman. Often the victim of many of Sabrina's spells when they went awry, he discovered her secret and eventually became a reliable ally and confidant of the Spellman family. Harvey also develops a brotherly relationship with Salem Saberhagen; Salem having called Harvey his "best friend" before they had even been able to speak to each other.
Biography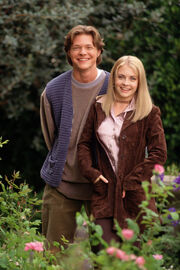 Harvey first meets Sabrina when he accidentally hits her on the head with a football, although this history is later altered, when time is turned back and Sabrina instead catches that football. He goes and sits with her and Jenny at lunch, and apologizes to/congratulates her, though it seems obvious he likes her. Sabrina invites him to go to a movie with herself and Jenny. In Seasons 1-3, they always hang out at their favorite pizza parlor "The Slicery."
He is too shy to ask Sabrina out, though still dances with her during the school dance. He eventually finds the courage to ask her out and from then, they become boyfriend and girlfriend. After their first kiss however, Harvey is turned into a frog, because he is mortal, and Sabrina must go through the True Love test to change him back. After she completes the test, he changes back and can freely kiss her.
In the season finale, Sabrina is trapped by a troll named Roland and the only way to save her is to get her prince to defeat Roland. Hilda and Zelda realize that they will have to tell Harvey that Sabrina is a witch in order to accomplish this and they give him a potion that will cause him to forget right after he does so. Harvey rescues Sabrina and the two go home completely honest with each other, though the potion kicks in.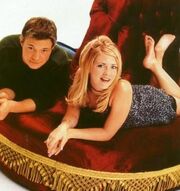 Harvey and Sabrina's relationship begins to break apart due to Sabrina being busy studying for her witch's license as well as dealing with her other responsibilities. But they make up and continue dating. Not long after, Harvey is told by his dad he should date different people because he is still young. Sabrina's aunts agree and they go on a temporary break. He also makes a close friendship with Valerie, a new girl with whom Sabrina is also close friends. By the end of the season, Sabrina is stuck between choosing Harvey or Dashiell and can't decide. After Harvey and Dashiell find out about each other, they tell Sabrina to choose one or the other.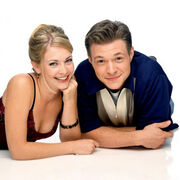 Sabrina's romantic dilemma continues and only after using the "Follow your heart" spell, does Sabrina finally choose Harvey and they get back together. Also, Harvey's mom becomes pregnant and it affects Harvey as he has to do a lot of work for his mother. He was also turned into a dog.
At the end of the year, he takes care of Salem and Lola, a pregnant, stray cat, as well as his own pregnant mother. Sabrina accidentally uses a spell that makes Lola's kittens go into Harvey's mom. She then reverses the spell, but then Harvey's shocked to see her, because she was supposed to be in Hawaii. Sabrina tells Harvey she might not be able to see him because she might be moving to Hawaii (when really she is suspected of being an evil twin), but since she is actually the good twin, she returns.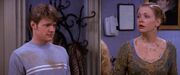 Harvey's friend Brad moves back to Westbridge from Texas and he is more interested in hanging around Brad than with Sabrina. Eventually, Harvey decides to spend more quality time with his girlfriend. Their relationship hits a breaking point when Sabrina promises to help her manager Josh study on the night of Harvey's big football game. Sabrina tells Dreama to page her when and if Harvey ever gets in the game (since he is always on the bench) but Dreama keeps beeping her with false alarms, eventually causing Sabrina to turn the beeper off. Unfortunately, she does so when Harvey finally gets to play, scoring a touchdown for Westbridge. Though Dreama tries to transform herself into Sabrina, her spell fails, and Harvey asks her where Sabrina is and Dreama tells him she went home because she was sick. When Harvey goes to her house, he finds Sabrina kissing Josh and therefore breaks up with her. Harvey then gets into a relationship with Colette, but after he and Sabrina talk it out, he ends it with her and he and Sabrina get back together. Near the end of the year, Sabrina casts a spell to choose between Harvey and Josh which forces them to undergo a battle to death. They both survive and Sabrina suspected that they would forget the situation as usual, however, she discovers that Harvey has reached his spell quota and memory spells will no longer work on him. Harvey then rushes into Sabrina's home, asking if they can talk about the fact that she's a witch.
Harvey broke up with Sabrina and they go a while without seeing each other, until they run into one another in Florida during Spring Break where Harvey is checking out of a hotel while Sabrina was checking in. Harvey keeps calling Sabrina after this and not saying anything due to nerves, but at the end he is able to speak and tells Sabrina he is sorry about the way he acted when he found out she was a witch. Harvey meets Sabrina at the end of their freshman year at Hilda's Coffee House and before he could talk to Sabrina, a girl called Pam, who is under a spell by Sabrina to ask out any guy she likes, asks him out for lunch.
Harvey starts dating Sabrina's roommate, Morgan. He comes back into Sabrina's life this year, being her confidante as the only one of her mortal friends who knows that she's a witch. However, Harvey gets Sabrina into trouble when he asks for her help in order to win a hockey game at his school, Boston College. Sabrina borrows a pair of Mercury's winged skates, making Harvey unstoppable at hockey, and afterwards, his coach has them bronzed. Sabrina is able to fix the problem, however.
Harvey is put on trial by Sabrina's great Aunt Irma, to determine whether or not he is trustworthy to keep the Spellman secret. Harvey passes with flying colors.
Morgan later breaks up with Harvey because Sabrina gave him advice to tell Morgan to stop bossing him around. Later, after Sabrina signs away her true love in order to save the life of her Aunt Hilda, along with Josh and a wedding caterer, Harvey tells Sabrina that he's leaving, deciding to move to California.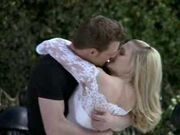 Harvey quickly changes his mind about moving away and returns to find Sabrina having turned to stone and fallen to pieces due to losing her true love, though she is saved by her Aunt Zelda.
Harvey and Salem replaces the Aunts, somewhat, as Sabrina's go-to guy in magical mishaps.
Things heat up when Sabrina gets a new boyfriend, Aaron Jacobs, and Harvey realizes he still loves her. Though being downtrodden as Aaron had proposed to Sabrina, Harvey is more than giddy when she accidentally says she loves him, and not Aaron, during a dinner party, though she and Aaron get back together.
Harvey accidentally spills the beans to Aunt Irma about Aaron being mortal despite Sabrina's attempts to convince her that he's a witch. As a result, Irma turns Aaron into a fish. Sabrina then gives up her magic in protest which Irma offers to Harvey. Harvey then selflessly uses the magic to turn Aaron back. Afterwards, Harvey leaves town, leaving Sabrina her magic and a letter professing his love for her and how that can never change. He tells her that for her to live happily, he should disappear.
On the day of Sabrina's wedding, Sabrina's cousin Amanda pressures Harvey to come to the wedding but he refuses to attend. Amanda leaves him a small box containing his soul stone prompting him to come to the church and wait in front of it. Only to his surprise does Sabrina come out of the church at 12:36, the first time that they ever met, and Sabrina and Harvey share a kiss before riding away on his motorcycle. It's shown that Harvey and Sabrina's soul stones are a perfect match when they throw them away and they magically reunite, but Harvey and Sabrina never realize this; instead, they just follow their hearts and drive away.
Family
Mrs. Kinkle
Harvey's mother.
Mr. Kinkle Harvey's father who works as the Termite King.
Una Kinkle
Una Kinkle was born in The Good, the Bad and the Luau. She is the youngest child of Mr & Mrs Kinkle and their only daughter.
Uncle Lloyd
He has perfect children and he is complaining about how Harvey doesn't start in his football games
Physical Description
Harvey has brown hair and brown eyes. He's also quite tall and slim. His appearance in the TV series differs from the comics.
Personality and Traits
Harvey is nice, cool, but a bit of a slacker and dimwitted. He loves Sabrina and has a brotherly bond with Salem. He also likes football, basketball, badminton, and hockey.
Trivia
Harvey is the only character besides Sabrina, Hilda, Zelda and Salem to appear in every single Sabrina adaptation since its beginning as a 1960's Archie comic book series.
Harvey is also the only character besides the aforementioned Spellman family to appear in every single episode of the "high school years;" seasons 1-4. Nate Richert was fired along with the other supporting cast members besides Josh Blackhart after the show moved from ABC to the WB after Season 4. Executive producer Paula Hart stated that Harvey was let go because it was thought that he was "part of the high school baggage that Sabrina needed to leave behind." Due to fan outrage, he was brought back for four guest spots during Season Five and rejoined the cast full-time in Season Six.
In the TV movie pilot, Harvey has a nerdy and shy personality, as opposed to being the more put together jock in the TV series. In both versions, Harvey seems to have feelings for Sabrina from the start. In both the TV movie pilot, and the show, Harvey is Sabrina's first kiss.
Sabrina reveals Harvey's ancestry is Slovenian in Whose So-Called Life Is It Anyway?
Harvey is the only person, on-screen anyways, who we know has reached any sort of spell quota. Despite this happening, he is still able to be helped by magical objects, such as Mercury's skates, as well as magical situations, that don't specifically target him, such as the Halloween Mystery Train.
When Harvey discovers that Sabrina was a witch accidentally at the end of Season Four, his reaction contradicts his personality during the other times he found she was a witch. Though his memory was usually erased somehow afterwards, he usually stayed witch positive during those times. However, during the Season Four finale, he becomes witch negative and breaks up with her. It may have something to do with just all the secrecy especially as Sabrina was his girlfriend and someone he was supposed to trust and not keep anything from him. Perhaps, he just remembered everything, and he didn't like having been kept in the dark so many times after having found out Sabrina's secret after all those times. However, he was supportive of Sabrina and very accepting of her being a witch.
Harvey once said that he dreamt of becoming a dentist.
Sabrina and Harvey are similar to Samantha and Darrin Stephens in Bewitched.
It is implied that Harvey and Sabrina get married some time after the series finale.
References