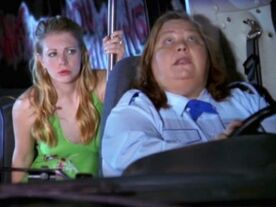 Guilty!
is the nineteenth episode of
the sixth season
and the 138th overall episode of
Sabrina the Teenage Witch
.
Summary
Sabrina's plan to get Zelda nominated for Professor of the Year turns ugly when the committee discovers that the last Zelda Spellman attended college in 1873 and fires her from her dream job. Sabrina becomes wracked with guilt and ends up stuck on a literal Other Realm 'guilt' trip until she can work through her issues.
Meanwhile, Hilda sets Miles up on a date with a girl just like her.
Magic Notes
Uses of Magic
Trivia
The woman that Salem tries to prank call over the phone is actually R&B singer/actress Brandy.
When listing other possible jobs for Zelda, Sabrinas makes a reference to the John Le Carre novel "Tinker, Tailor, Soldier, Spy."
When the bus driver calls Sabrina Sandra Bullock, she is talking about the 1994 film Speed.