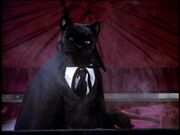 The Phantom Menace
is the sixth episode of
the fourth season
and the eighty first overall episode of
Sabrina the Teenage Witch
.
Summary
It's Halloween and instead of celebrating the holiday with her aunts, Sabrina gets a job at a nearby coffee shop and spends it working. Her aunts warn her that, because she is a witch, she can't run from Halloween, but Sabrina doesn't listen. At the coffee shop, Sabrina learns that her boss, Josh, isn't staying with her to help, as he has to finish a paper for college, and Sabrina is left alone in the shop. She is freaked out because she starts hearing voices and Dreama comes along and scares her to death with her costume. To makes things worse, a bunch of zombies appear to freak the girls.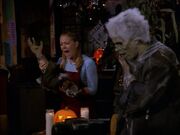 Meanwhile, Hilda and Zelda anticipate dinner with the famous writer, Edgar Allen Poe, but the dinner isn't all that they expected.
Cast
Quotes
Magic Notes
Uses of Magic
Spells
To Make Latte
(Cast by Sabrina Spellman)
Frosty milk nice and hot taste, 
Whip me up a low fat latte
To Make the Zombies go Away (Failed)
(Cast by Sabrina Spellman)
I don't feel visiting these walking corpses today,
Please make those zombies go away
Trivia
This episode marks the first appearance of Josh Blackhart.
This is the last episode in which Sabrina tries to run from Halloween. She decides to embrace it in Seasons 5 and 6 (Season 7 has no Halloween episode), and tries to convince her friends of the importance of the holiday.
This is the fourth Halloween episode on the show.
Mr. Kraft does not appear in this episode.
This episode title is a reference to the movie Star Wars Episode I: The Phantom Menace.
David Lascher joins the cast as Josh Blackhart. Lascher co-starred in the teen comedy series Clueless on which Melissa Joan Hart crossed over to as Sabrina. He is the third Clueless cast member to become a Sabrina character.