Elisa Donovan (born February 3, 1971) is an American actress, writer and producer.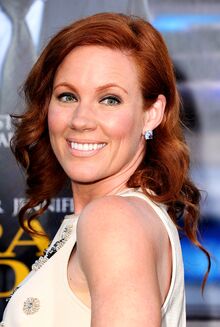 Elisa was born Lisa Adaline Donovan in Poughkeepsie, New York, the daughter of Charlotte and Jack Donovan, who was a business executive.[1] She later changed her first name to "Elisa" when she had to join the stage union, Actor's Equity, because there was already an actress in that union named Lisa Donovan.[citation needed] She grew up on Long Island where she was an accomplished gymnast, dancer and equestrian. She began studying acting at age 12. She attended The New School, in New York City, where she studied writing, literature and acting. She moved to Los Angeles in 1994 and got her first sitcom role as "Tanya" on Blossom.[citation needed
Donovan's major breakthrough role was in the film Clueless as Amber, Cher's nemesis. Donovan also reprised her role in the television series of the same name. Other notable roles included the film A Night at the Roxbury, Beverly Hills, 90210 as "Ginger LaMonica" and playing "Morgan Cavanaugh" on the television sitcom Sabrina, the Teenage Witch. She has also recently played "Sharona" on Disney's "Sonny With a Chance," and has appeared in the films Complacent, The Dog Who Saved Christmas, and its sequel The Dog Who Saved the Holidays. Donovan is currently starring in the web-series, The Lake,[2] on TheWB.com. Additionally, Donovan is playing "Gayle," an insurance agent in the small town of "Maple Grove," in the popular web series, "In Gayle We Trust," on NBC.com.[3]
Donovan also had a role in the film A Golden Christmas. In it, she played Anna, the funny, younger sister of the main character.
In 2006 she played a guest role in the NCIS episode "Dead and Unburied".[4]
She was also featured in an NSYNC music video I Drive Myself Crazy as the love interest for Joey Fatone.
On May 8 2012, she gave birth to a daughter named Scarlett Avery Bigelow with her fiance Charlie Bigelow. They were married on October 20, 2012.
Community content is available under
CC-BY-SA
unless otherwise noted.