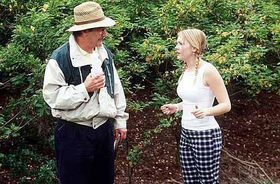 Disneyworld
is is the twenty third episode of
the second season
and the fourty seventh overall episode of
Sabrina the Teenage Witch
.
Summary
On a field trip to Disney's Animal Kingdom in Florida, Sabrina, working to pass a critical test for her witch's license, accidentally turns Libby and Valerie into zebras while Libby was pretending to befriend Valerie in order to steal Harvey away.
Meanwhile, Hilda and Zelda visit Animal Kingdom's DinoLand U.S.A., where they magically create their own prehistoric man from a bone that Zelda found. Harvey ends up as a tour guide on a Kilimanjaro Safaris adventure through a wildlife reserve and Mr. Kraft thinks he's finally discovered what Sabrina's hiding.
Salem secretly stowaways into Hilda's bag so that he could join the trip. When he finds out that he isn't allowed in Disney World because he's a cat, that doesn't stop him from exploring for food there, but has some misadventures at the Animal Kingdom. So he decides to stay in the hotel, where it's safer, and order as many meals as he likes. Sabrina passes her test when she brews the potion that turns Libby and Valerie into humans again.
Cast
Starring
Guest starring
Quotes
Magic Notes
Uses of Magic
Quizmaster makes Mr. Kraft say, "Class trip to Florida!"
Quizmaster makes Sabrina say, "We're going to Disney World!"
Sabrina conjures an ice machine.
Hilda makes Harvey disappear. He reappears on the safari ride as a tour guide.
Zelda turns the bone into a caveman.
Valerie and Libby turn into Zebras.
Sabrina turns them back.
Hilda stops Harvey from being a tour guide.
Spells
To make the bone comes alive:
(Casted by Zelda Spellman)
Of this bone, there is much in doubt,
So of yourself, tell me all about.
Trivia
Sabrina was one of many TGIF shows that took a trip to Disney World (to plug the famous park); Family Matters, Full House, Step by Step, and Boy Meets Word also took a crew to Orlando as well.
Sabrina mentions that she is the cause of El Niño.
In this episode, Hilda uses her magic without her classic smoke or explosions.
Goofs
Vice Principal Kraft mentions he always liked the paintings of Edvard Munch, and says the painter was Swedish. Edvard Munch is in fact Norwegian.
Community content is available under
CC-BY-SA
unless otherwise noted.