Cirque du Sabrina
is the 15th episode of the
seventh season
and the 156th overall episode of
Sabrina the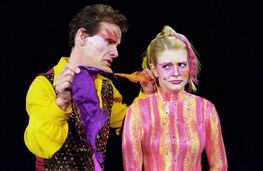 Teenage Witch
.
Summary
After trying unsuccessfully to balance the things in her life, Sabrina's room literally turns into a circus. Upon talking to the ringmaster, Sabrina learns that in order for things to return to normal, she has to walk a tightrope above her bed until finding the balance between spending time with Aaron, her friends, and Harvey. Through the course of these events, Sabrina learns that Harvey is still in love with her. Unfortunately, in her attempts to get him to fall out of love with her, she erases all memory of their relationship and friendship from his memory.
Magic Notes
Uses of Magic
Notes/Trivia
The title is based on "Cirque du Soleil," a famous circus act.
Sabrina is shocked to discover that Harvey's still in love with her despite the fact that he told her so in the season six finale, "I Fall to Pieces."
A short clip from the Pilot can be seen in this episode. Libby is in the clip, which is her first appearance since the third season episode "Silent Movie."
Harvey still carries around a picture of him and Sabrina from their first Valentine's Day together in the Season 1 episode "First Kiss."