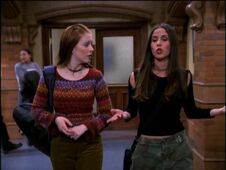 John Adams College is the fictitious college in Boston that Sabrina attended in the show's fifth and sixth season, along with Roxie King, Morgan Cavanaugh and Miles Goodman. The college offers student accommodation although Sabrina had to find private accommodation due to deciding she wanted to move out for college very late. Zelda Spellman got a job at the college as a Physics professor, much to Sabrina's (initial) annoyance.
Adam's College is apparently only a two-year school, as Sabrina, Roxie, and Morgan graduate from there after only two years.
Episode(s)
Community content is available under
CC-BY-SA
unless otherwise noted.