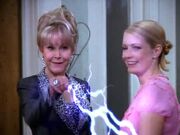 A Fish Tale
is the 20th episode of the
seventh season
and the 161st overall episode of
Sabrina the Teenage Witch
.
Summary
Aunt Irma hears about Sabrina's engagement and comes to visit so that she can give her blessing, expecting her fiancee to be Harvey. Once Irma finds out that she's marrying Aaron, Sabrina lies to her and tells her he is a witch. When Irma discovers the truth, she turns Aaron into a goldfish and refuses to turn him back.
Meanwhile, Morgan and Roxie audition a new roommate to replace Sabrina.
Magic Notes
Uses of Magic
Trivia
The day after this episode originally aired, it was announced that the WB had canceled "Sabrina the Teenage Witch."
This is the third and final appearance of Aunt Irma. It has been rumored that if the show had continued for an eighth season, it was planned to make her a regular character in the same vein as Endora, Samantha Stephens' over-bearing mother in the TV Show Bewitched.
Sabrina says that she didn't think that anyone in the Other Realm knew about the wedding. However, in the series finale, her father and Aunta Hilda both appear.
Sabrina places her magic into a glass vase but in the episode "Witch Way Out," she says that tupperware is the only substance that can hold it. This is either an oversight, or the rules for magic containment have changed.

In this episode, we learn that  if a witch gives up their magic, then mortals can be given it. 

The show once again makes fun of Sabrina's excessive use of the phrase "Gotta go!" This is the final time that it's used in the series.

Aunt Irma reveals that, though she dislikes Mortals, Harvey is "the least offensive of the lot". 
Community content is available under
CC-BY-SA
unless otherwise noted.